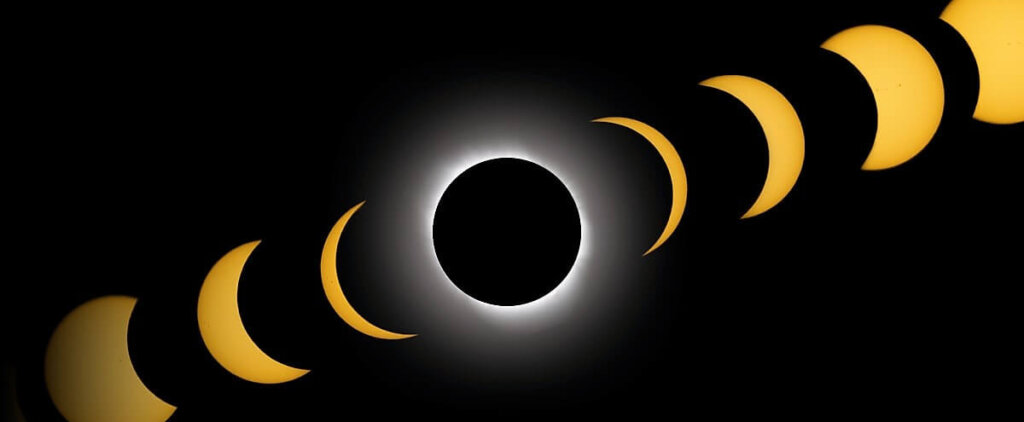 A total solar eclipse is a rare and spectacular event. On average, one happens somewhere on the Earth once every 1.5 years and only 21 solar eclipses have crossed the lower 48 in the entire history of the United States.
The last total solar eclipse visible in Ohio was in 1806. The next total solar eclipse will not be visible in Ohio until the year 2099.
The "path of totality" during a solar eclipse is the path that the moon's shadow falls onto the Earth's surface. On April 8, 2024, the centerline for the path of totality will dissect Shelby County entering in the vicinity of Fort Loramie and existing near Botkins. To witness the 2024 solar eclipse in all its splendor, viewing along the path of totality is optimal. Outside of the path of totality, one will only see a partial eclipse.
Totality enters the southwest corner of Shelby County at approximately 3:09 p.m. and exits the northeast corner of Shelby County around 3:14 p.m. Excellent viewing locations will be numerous in this area including the City of Sidney, Villages of Fort Loramie, Russia, Botkins, Anna, & Jackson Center, each very close to the centerline on the path of totality.
PUBLIC SPACES FOR VIEWING
Anna (3:57 minutes of totality)
Botkins (3:58 minutes of totality)
Fort Loramie (3:58 minutes of totality)
4401 Fort Loramie – Swanders Road
Jackson Center (3:56 minutes of totality)
Russia (3:56 minutes of totality)
Sidney (3:52 minutes of totality)
SPECIAL EVENTS
Experience the Eclipse: a once in a lifetime total eclipse camping experience at beautiful Hickory Hill Lakes campground, home to the annual Country Concert. You'll camp 3 nights beginning Saturday April 6th thru Tuesday April 9th, enjoy food trucks on site along with great live entertainment on Saturday and Sunday nights AND Monday afternoon during the Solar Eclipse. Deluxe electric and water hookups available. No RV | No Problem. D&D RV will deliver, setup, and instruct you on the use of a rental RV. It's easy. They do the work. You show up and have fun. CLICK TO LEARN MORE…
Planning continues in Shelby County to deliver a memorable eclipse experience for our residents and guests so please check back for more exciting announcements.


RESOURCES FOR MORE INFORMATION
NASA – The foremost authority on everything space.
NationalEclipse.com – Comprehensive information about what to expect, eclipse safety, weather, maps, FAQs and more.
EclipseOhio.gov – An excellent source for information about the 2024 eclipse, especially as it pertains to Ohio.