Sidney Bicentennial Coins
In conjunction with the celebration — which will begin in 2020 — the Sidney-Shelby County Bicentennial Committee has released Sidney's Bicentennial logo design. The design contains the verbiage that has described Sidney for several decades — "Gateway to the Miami Valley". According to Bicentennial Committee Co-Chair Bob Guillozet, "We also wanted to recognize that Sidney is the county seat of Shelby County, have a high-impact design that was celebratory in nature and one that is easily recognizable."
The coins can be pre-ordered by picking up a form at the Sidney offices of Mutual Federal Saving Bank, Peoples Federal Savings & Loan, the Shelby County Historical Society, or Sidney City Hall or downloading the form here. The coins are $50 each, and come encased in a protective plastic capsule. Coins will be available for pickup on Dec. 17. Coins reserved but not picked up by Dec. 23 will be sold on a first-come, first served basis.
In addition to the limited edition coins, a jeweler's case that can hold two coins is available for those who purchased a Shelby County Bicentennial coin and want to purchase a case to display both coins together. These deluxe, black velvet, two-coin boxes are just $5 each.
---
Sidney's Bicentennial Brew
The Sidney Bicentennial Beer Subcommittee, chaired by Shelby County Commissioner Tony Bornhorst, has been working with Nick Moeller on brewing a beer that will be available in 2020, the year that the City of Sidney will be celebrating her bicentennial.  Moeller operates Moeller Brew Barn with locations in Maria Stein and Troy. 
Moeller was responsible for creating Shelby 2019 Limited, a pilsner that achieved wide acceptance throughout the area.  In addition, Moeller produces a number of craft beers that are available locally.  
"Nick is again excited to work with us on this project," Bornhorst reported.  "The now defunct Wagner Brewery produced two beers.  One was marketed as Golden Pilsner Lager and the other as Pale American Export," Bornhorst noted. 
"When Bicentennial Co-Chairs Mike Barhorst and Bob Guillozet met with Nick a couple of months ago and discussed the options for the proposed beer, the 'export' terminology caught Moeller's attention," Bornhorst stated.
"Just as 'pilsners' originated in Plzeň, a city located in the Czech Republic, 'exports' originated in Dortmund, Germany," Moeller stated.  "Exports were the indigenous pale lagerbiers produced in Dortmund," Moeller explained.  "They tend to use a bit more German noble hops to help balance the bigger maltiness and higher alcohol content than the Pilsen lagers."
"Wagner Beer was brewed in Shelby County off and on for eight decades," Bicentennial Committee Member Rich Wallace reminded committee members.  "The brewery survived the 1913 flood, Prohibition and a disastrous fire before bankruptcy eventually closed the business for good."
---
Sidney Bicentennial Pictorial Postmark & Commemorative Postcards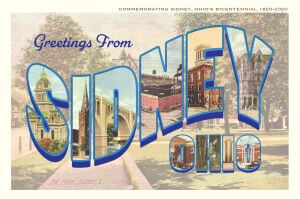 To commemorate Sidney's bicentennial, two postcards have been designed to mark the 200th anniversary of Sidney, Ohio.  The postcards are 4-inch x 6-inch in size.  Both feature a composite of colorful images showing notable Sidney landmarks from the past and present.  The vintage postcard includes images such as the Sidney Steel Scraper, Co., Tawawa Park in the year 1907, and the N. Miami Standpipe.  Images on the modern postcard include the Courthouse, Big Four Bridge, and Monumental Building.  A custom, postcard-rate postage stamp featuring a portrait of Sir Philip Sidney, the English poet and scholar for whom the city of Sidney was named, has also been created for the postcards. 
The bicentennial postcards are available for purchase beginning Monday, February 10 at Sidney Alive, 109 S. Ohio Avenue, in downtown Sidney during regular business hours.  Sales will continue there through March 10.  Postcards with the Sir Philip Sidney postage stamp will sell for $2.  Postcards without the custom stamp will be $0.50. 
On Wednesday, February 12, Sidney's post office will serve as a temporary "Bicentennial Station" mailing location.  Postal customers can request at the counter to have the postmaster apply a specially designed pictorial postmark to any item containing proper postage, including the commemorative postcards, regular outgoing mail pieces, or other items to be kept as souvenirs.  The postmark was created using elements of the official Sidney, Ohio bicentennial logo and shows Sidney, Ohio as the place of mailing. 
Items bearing the February 12 postmark can only be mailed on that day, but customers unable to get to the post office that day can still obtain the postmark for keepsake purposes until March 12.  Instructions on how to get the postmark by mail after February 12 can be obtained by calling the Sidney post office at (937) 492-3181. 
---
The Churches of Shelby County – Past and Present
For months research has been underway to develop a directory of area religious institutions to commemorate the 2019 and 2020 Shelby County and Sidney Bicentennial celebrations. Entries in the directory will include active as well as bygone churches. Active churches will have information on the ministers, service times, contact information, and more. Bygone churches will list former locations. Both will include historical data. Students from all ten Shelby County schools as well as several other individuals have assisted in gathering facts and photographs for this effort.
What Shelby County churches had their beginnings in the homes of congregants? Can you name the three separate entities that eventually merged to form GreenView United Church of Christ? What religious outreach program is sponsored by Sidney First United Methodist Church? Did you know that a former Sidney church was named after a martyred missionary? How many St. Jacob Lutheran churches are in Shelby County? This church was once led by the father of a nationally known children's author.
What bygone church was located on the site of the current Hardin-Houston School? In order not to interrupt services, this community constructed a new edifice around the existing church. The Petersburg Cluster includes what Shelby County churches? These questions and many more will be answered in "The Churches of Shelby County – Past and Present."
Follow this site for more information as it becomes available.
---
"30 and 0 + 50 years" – Labor Day Weekend
The Sidney Yellow Jackets ran off 30 consecutive victories from 1968-70 and the town was in a full football frenzy. 2020 marks the golden anniversary of the conclusion of that streak, and a reunion commemoration is planned for Labor Day weekend as part of Sidney's bicentennial.
The centerpiece will be the Tipp at Sidney game on Friday September 4. A Thursday night contest was discussed but many factors dictated the traditional Friday including the availability of the alumni band.
Thursday will be utilized for reunion attendees to meet at the former Julia Lamb Stadium to remember deceased teammates and reminisce, then proceed to Sidney Memorial Stadium to see the current team practice before the groups combine for pizza in the Goffena Training Facility at the stadium.
Friday's kickoff is the usual 7pm. Introductions will take place at the outset of halftime. A postgame public reception will be held at Goffena with everyone invited.
NKTelco will do a delayed telecast of the festivities. The NKT website will provide worldwide ongoing archived access.
Five graduating classes participated in "30 and 0" with each having a reunion captain. 1969- Dave Fultz, 1970- Tim Zorn, 1971- Dave Leistner, 1972- Mark Fogt, and 1973- Rick Carroll. These men will recruit and communicate with their football classmates. Former Athletic Director John Wolfinger will handle the coaching staff. An itinerary and other specifics will be forwarded later through the captains.
The SHS class of 1970 will also hold its 50th reunion on that weekend. Many will attend the football game and reception before their own events begin on Saturday.
---
Shelby County Driving Tour App
Sponsored by SMS Group.
---

Shelby County Bicentennial Commemorative Henry Rifles to Be Sold
The Shelby County Bicentennial Committee is offering commemorative Henry rifles for sale to the public. The commemorative rifles will include three models.  Those models include the Henry Standard, the Henry Golden Boy, and the Henry Big Boy.
"When the committee first began planning Shelby County's Bicentennial, we discussed offering a commemorative Henry rifle," Guillozet stated.  "After a great deal of research, we began working with Brian Nesby of Rocky Mountain Firearms.  A part of that work included choosing the facets of Shelby County's history to include."
"Perhaps the toughest part of the entire project was designing  the engravings that would best illustrate Shelby County's history," Guillozet stated.  "Brian's engravers worked with Mary Beth Monnier of Creative Marketing Strategies  on the final design of the images used."
Available from Rocky Mountain Firearms will be the Henry Standard.  The .22 caliber rifle will have a blued receiver and round barrel.  Only 25 of the guns will be available, and each gun will be engraved with the number in the series.  The Henry Standard will sell for $699.00.
The Henry Golden Boy has a brass finished receiver and octagon barrel.  It too is .22 caliber.  Like the Henry Standard, only 25 of this model also will be available.  The Golden Boy sells for $895.
The Henry Big Boy is a large-bore rifle, and only 10 will be offered.  It comes with an octagon barrel, and can be ordered in one of four calibers, including .357 magnum, .41 caliber, .44 caliber, or .45 caliber.  It too, comes with a brass finish receiver.  It sells for $1,495.
Located in Johnstown, Colorado, Rocky Mountain Firearms is a small, family-owned business that has been producing special edition firearms for 17 years. These limited edition rifles make very fine family heirlooms and make great gifts as well.
Thanks to Rocky Mountain Firearms, two of the guns, a Henry Standard and a Henry Golden Boy, will be raffled off, with the money benefitting the Shelby County Bicentennial Committee. Details of the raffle are being developed now and will be announced here once finalized.
Those interested in more information or to purchase one or more of the commemorative Henry rifles should contact Brian Nesby at (888) 742.4867 or (970) 231.3050).  Orders will be processed in the order received. 
---
Shelby County Henry Rifle Raffle
---
Bicentennial Brew – What's in a Name?
The Shelby Sidney Bicentennial Committee sponsored a contest to name a special bicentennial beer being brewed for Shelby County's
Bicentennial. The Bicentennial Beer Subcommittee, chaired by Shelby County Commissioner Tony Bornhorst worked with Nick Moeller, owner/operator of Moeller Brew Barn of Maria Stein in this endeavor.
Shelby County's Bicentennial brew is a pilsner – a type of lager. Interestingly, the John Wagner Brewing Company, the only brewing company located in Shelby County between 1896 and 1919 when it closed after the passage of the 18th Amendment, brewed a pilsner.  That pilsner was named Golden Pilsner Lager.
Shelby 1819 Limited is the name selected for Shelby County's "soon to be favorite" special beer. Congratulations Dave DeVelvis from Sidney for submitting the winning entry. Shelby 1819 Limited will have a limited production run, and only be produced for consumption during Shelby County's Bicentennial. It will be available for purchase locally and at special events during the year, including the Shelby County Fair and community celebrations such as the Botkins Carousel, the Anna Homecoming and Jackson Center Community Days.
---
Shelby County Sets a new GUINNESS WORLD RECORD
On Wednesday morning September 18th, students representing every school in Shelby County were joined by others from the community in an attempt to break a world record by opening a drink can simultaneously. The previous record was established in Japan in 2018 when, all at one time, 1,204 people opened a soft drink can. That record was shattered when at Sidney Memorial Stadium 2,344 cans were opened.
CLICK HERE TO VIEW HISTORY IN THE MAKING.
Setting this new world record is significant to Shelby County Ohio where the process originated for mass-producing pop-top drink cans at the Stolle Corporation in Sidney.
Officials from GUINNESS WORLD RECORDS were on hand to witness and validate the attempt.
Setting a world record was one of numerous events and activities organized in the county to commemorate its 200 year bicentennial celebration. This specific community undertaking paid tribute to the significance of manufacturing in Shelby County, its rich heritage, and the dedicated workforce instrumental to past and ongoing achievements.
The world record attempt was sponsored by Stolle Machinery.
---
Children's Activity Book
A children's Bicentennial activity book comprised of coloring and puzzle pages will be inserted in the Sidney Daily News on March 30.  Additional copies will be distributed to all third-graders in the county during an event planned by the Shelby County Historical Society. Page sponsorships are available. For more information, contact Natalie Buzzard at 937-538-4667.
Sponsored by The Sidney Daily News.
---
Poster Contest
Being organized by the Shelby County Libraries, area students will have the opportunity to show off their creativity and Bicentennial spirit by participating in a poster contest. The theme of this year's competition is  "Celebrate The  Bicentennial." There will be three age categories within the contest and the winning posters will be displayed in the Art Gallery at Amos Memorial Library in downtown Sidney. Winning entries will receive special prizes.
The Bicentennial Poster Contest is sponsored by Ross Casting & Innovation.
---
Shelby County Bicentennial Pictorial Postmark & Commemorative Postcards
A special pictorial postmark has been created for each of the 11 communities in Shelby County that has a post office (Anna, Botkins, Fort Loramie, Houston, Jackson Center, Kettlersville, Maplewood, Pemberton, Port Jefferson, Russia and Sidney). Each postmark features the official Shelby County Bicentennial logo, the April 1, 2019 Bicentennial date and the location of that post office as the official place of mailing (ex. ANNA, OH STATION). To celebrate the 200th year of Shelby County, on April 1st customers at any of the Country post offices can request to have the postage on their regular outgoing mail cancelled with their community's special postmark. Commemorative postcards can be specially postmarked on request and mailed on this date as well.
Eleven unique commemorative postcards have been designed. The front of each 4×6 postcard features high-quality images of each community.  The back of the postcard includes one custom postcard-rate postage stamp featuring a photograph of the current Shelby County Courthouse. Most postcards will also come pre-stamped with a special Bicentennial pictorial postmark.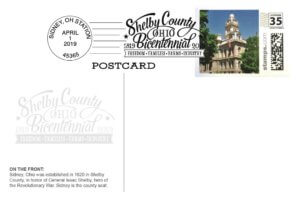 A set of all 11 postcards sells for $20. Individual postcards are priced at $2 each. Postcards will be available for purchase beginning April 1 through April 30 at the following retail locations during their regular business hours: Rachel's Cakes in Anna, Ask Amy Staging in Botkins, Fort Loramie Hardware, Michael's Mowers in Houston, Jackson Center Pro Hardware, PJ General Store & Carry Out in Port Jefferson, Buschur's Market in Russia, and The Ivy Garland in Sidney. Each retail location will have on-hand their community's individual postcard, as well as the 11-postcard sets. As there are no retail locations participating in Kettlersville, Maplewood and Pemberton, those interested cards representing these communities can purchase their cards as follows: Rachel's Cakes will also carry the Kettlersville postcard; PJ General Store & Carry Out will carry the Maplewood postcard; and The Ivy Garland will carry the Pemberton postcard.  
As a fun way to observe the bicentennial celebration, a limited number of commemorative postcard sets will be available for purchase without postmarks.  Those who choose to purchase their postcards in this format can instead plan to visit each of the 11 post offices in the county during the month of April and collect their own postmarks.   
The commemorative postcards are intended as bicentennial keepsakes, however, they have a stamp and meet all requirements for mailing. Anyone wishing to mail a commemorative postcard bearing the special April 1, 2019 postmark must do so on that date only. After that date, postcards containing the special postmark can no longer enter the mail stream, per postal service regulations.
---
Wilson Lenox House Experience
Shelby County's third graders will reinforce their Local History Social Studies curriculum by attending a Shelby County Bicentennial event named "Shelby County in 1819." This event has been created by the Shelby County Historical Society's Just for Kids committee joined by third grade teachers and administrators and will allow third graders to experience what it would have been like to live in Shelby County in 1819.
Students will tour the Wilson/Lenox home built in 1816 by John Wilson. This is the oldest brick home still standing in Shelby County. The day will include many hands-on experiences. Students will learn how pioneers created farmland by cutting down trees to build homes and barns. Once the land was cleared, the pioneers worked hard to plant and harvest their fields. Students will plant corn, shell corn, grind corn into corn meal and then bake corn bread in an outdoor oven.
The most valuable asset to any farmer in 1819 was his livestock. Students will learn how to care for farm animals. A demonstration will be given on how sheep are sheared and how the wool is cleaned, carded, and spun into yarn and woven into cloth for clothes.
When pioneers were not in the fields they were hunting and trapping, trying to provide extra meat for their families. Pelts were used to barter for items that they could not make or create for themselves. Pioneers could never have imagined in how transportation, communication, and law enforcement would have changed over the course of 200 years. By the end of this day students will have a better understanding of how life has changed in Shelby County since 1819.
Sponsored by Shelby County United Way, The Monarch Legacy Fund of The Community Foundation of Shelby County,  Gillman Farms, Doug and Becky Jelley, Freshway Foods, and the Sidney-Shelby County Chamber of Commerce.