Local Events
Calendar
Fall on the Farm at Crossway Farms
Start date: September 17, 2022
End date: October 30, 2022
See Facebook Page & Website for daily schedule
SO MANY AMAZING THINGS HAPPENING ON THE FARM THIS FALL TO INCLUDE A GIANT U-PICK PUMPKIN PATCH, U-PICK SUNFLOWER FIELD (END OF SEPTEMBER), SUNFLOWER PHOTO FIELD, CROSSWAY CORRAL PLAY ZONE, FREE CORN PIT, PETER THE PUMPKIN'S SCAVENGER HUNT, DONUT TRAILER (OPEN SATURDAY'S & SUNDAY'S), FARM MARKET STORE, PICTURE CUTOUTS FOR PHOTO OPS, FISH FEEDING, AND MORE!
THE CROSS CORRAL PLAY ZONE FEATURES A SUPER SWING, DUCK RACES, TILTED TIRE TOWER, RACER SLIDES, CANDY CORN CROQUET, GIANT SANDBOX, GAGA BALL, PUMPKIN BOWLING, TUG OF WAR, HULA HOOP HORSES, GIANT JENGA, BARREL BALL, LOOPY LADDER GOLF, YARD YAHTZEE, RING-IT, BIGFOOT RACES, TIC-TAC-TOE, GIANT BUBBLE STATION, PAINT -A- PUMPKIN, MEGA MOUNTAIN, AND POPPIN' PUMPKIN PATCH.
CLICK HERE TO VIEW THE CROSSWAY FARMS WEB SITE AND SCHEDULE OF FALL ACTIVITIES
---
Sidney Alive Presents: An Open Air Dinner on the Ross Covered Bridge
Start date: September 29, 2022
End date: September 29, 2022
5:00 p.m. - 8:00 p.m.
Guests will enjoy a beautiful farm-to-table dinner on the beautiful Ross Covered Bridge in Tawawa Park.
Tickets required.
---
Downtown Ghost Walk
Start date: October 12, 2022
End date: October 13, 2022
This year's Ghost Tour will be a spectacular leap from previous years as you visit two of the most famous sites in all of Shelby County, the Bonnyconnellen Castle and the GreatStone Castle. While there you'll hear actual, ghostly stories from guides and the current owners alike.
Tours are limited to 20 people each and begin at 5:30 p.m., 6:00 p.m., 6:30 p.m., 7:00 p.m., and 7:30 p.m. Touring times are estimated to be 60 minutes.
Tickets are required and can be purchased at the Ross Center.
---
Downtown Chocolate Walk
Start date: October 14, 2022
End date: October 14, 2022
5:00 p.m.
Join us as we tour downtown businesses while enjoying samples of delicious chocolate treats! *Tickets are limited* Must be 21 &  over to participate.
Additional details will be announced later.
This event is being sponsored by Winans Chocolates + Coffees.
---
Boos and Brews Festival
Start date: October 15, 2022
End date: October 15, 2022
To Be Announced
Gonna be a fun time for the entire family.
As this event is currently in the planning stages, please check back for more details as available.
---
The Great Sidney Farmer's Market
Start date: October 15, 2022
End date: October 15, 2022
8:00 a.m. til Noon
Join us every Saturday, 8:00 a.m. to Noon! The market is "the place to be" on Saturday mornings throughout the season.  Crafters offer a large variety of homemade items, and farmers bring their freshest produce to tantalize your taste buds.  Fresh baked goods and jams and jellies are always a crowd pleaser.  Plants and flowers are abundant.  Shop early for your best selection.
---
Ashley Ray
Start date: October 21, 2022
End date: October 21, 2022
7:30 p.m.
Born and raised in Lawrence, Kansas, Ashley Ray has written songs for artists like Little Big Town, Lori McKenna, Sean McConnell, Wade Bowen, Charles Kelly (Lady Antebellum) and Caroline Spence. Alongside friend and fellow artist, Sean McConnell, the two pinned the current Little Big Town single, The Daughters with LBT's own Karen Fairchild.  Ashley's newest album, Pauline, translates like a memoir, she writes about her home, family, the people she's lost, decisions and dreams with the kind of grace that only comes with embracing who you are – and then summoning the courage to share it.  Pauline was released in early 2020 to critical acclaim and NPR featured her in it's coveted Tiny Desk Concert series to close out the year.
---
Murder Mystery Dinner
Start date: October 29, 2022
End date: October 29, 2022
To Be Announced
A classic whodunnit dinner. You can choose to be a starring character or just a bystander, you'll have a blast either way!
Please check back for more information.
---
Gateway Arts Council Presents: Lonestar
Start date: November 6, 2022
End date: November 6, 2022
7:00 p.m.
Lonestar was founded in 1992 and quickly became one of country music's most celebrated groups. Lonestar has charted more than 20 singles on the Hot Country Songs chart, including 9 that reached No. 1: "No News," "Come Cryin' to Me," "Amazed," "Smile," "What About Now," "Tell Her," "I'm Already There," "My Front Porch Looking In" and "Mr. Mom." "Amazed" also charted at No. 1. The group has recorded seven albums, a greatest hits package, and one album each for three different independent labels. Three of their albums have been certified platinum or higher by the Recording Industry Association of America.
Lonestar has amassed RIAA-certified sales of over ten million albums since their national launch in 1995 and achieved 10 No. 1 country hits. The band's awards include 1996 ACM Top New Vocal Group, 1999 ACM Single of The Year for "Amazed" (the song also won "Song of the Year "), 2001 CMA "Vocal Group of the Year, and 2002 ACM Top Vocal Group. With an average of 80 dates worldwide per year, they are celebrating over 25 years together.
---
Holiday Shop Hop
Start date: November 9, 2022
End date: November 12, 2022
Shop/Dine LOCAL this Holiday Shopping Season! Visit the participating businesses and scan their unique QR Codes to earn points! The person with the most points at the end of the day on November 13th will win a fabulous prize pack, featuring goodies from our participating businesses!
Stay tuned for more information!
---
Downtown Sidney Holiday Lights Grand Illumination
Start date: November 23, 2022
End date: November 23, 2022
To Be Announced
Join us for the Grand Illumination of the Holiday Lights in downtown Sidney! Come early and stay late to dine and visit our shops! Spectators are asked to gather on the courthouse square to see the lighting. Programming will take place primarily on the East side of the courthouse lawn with lights being visible all around the square. We can't wait to kick off the holiday season with you!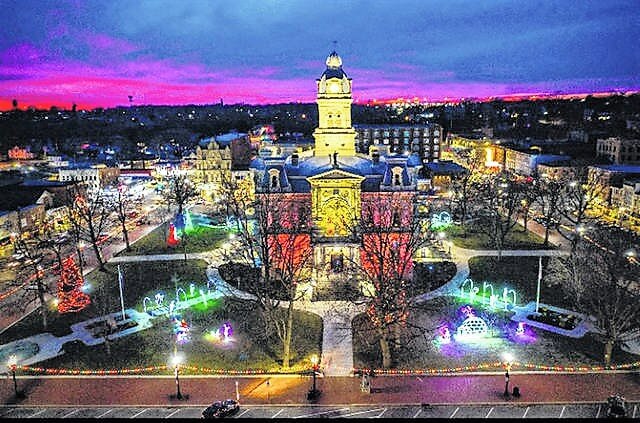 ---
Downtown Sidney's Winter Wonderland Parade
Start date: December 3, 2022
End date: December 3, 2022
To Be Announced
See our downtown all dressed up for the holidays and enjoy this festive holiday parade, complete with Santa & Mrs. Claus! For their safety, spectators are asked to please remain on the sidewalk during the parade.

---
Christmas of Yesteryear
Start date: December 3, 2022
End date: December 3, 2022
11:00 a.m. to 4:00 p.m.
Children will decorate gingerbread houses, make ornament wreaths and clay ornaments, and enjoy popcorn and chestnuts roasted over an open fire. Of course Santa will be on hand for photos. Free and open to the public.
---
Christmas with Cantus
Start date: December 4, 2022
End date: December 4, 2022
7:00 p.m.
In a "powerfully poetic Christmas program," the all-male vocal ensemble will present familiar holiday carols. Cantus brings their pristine harmonies to the holiday classics alongside narrated passages. As one of the nation's few full-time vocal ensembles, Cantus has come to prominence with its distinctive approach to creating music.
---
Comedian Jeff Allen
Start date: February 26, 2023
End date: February 26, 2023
7:00 p.m.
Jeff Allen combines clean, hilarious humor like no other comedian working today. Besides performing at corporate functions and fundraisers, he regularly appears on television, radio, and at casinos across the country. Allen has been featured on America's Got Talent, Netflix, Amazon, Dry Bar Comedy, Pureflix, Huckabee, Warner Bros., Bananas, Apostles of Comedy, Thou Shalt Laugh, and numerous other networks and shows. With over 200 million video views on YouTube and Facebook, comedian and viral sensation Allen is the world's funniest, most inspiring comedian!
---
Gateway Arts Council Presents: Blood Sweat & Tears
Start date: April 23, 2023
End date: April 23, 2023
7:00 p.m.
Blood, Sweat & Tears is not the first band to ever use a horn section, but they are the first to fuse it with rock, jazz, and some blues just for good measure. From the first ensemble in the late 60's practicing in a loft on Bleeker Street in New York's Greenwich Village and having crowds clapping on the street below between songs, founding member and drummer Bobby Colomby knew they were on the right course. Since then, the band has never stopped touring for over 50 years.
Blood Sweat & Tears has had many firsts. They are the first rock band to tour behind the former Iron Curtain and the first rock band to play Las Vegas. Blood Sweat & Tears has had many configurations over its 50-plus years of touring but one thing for sure is that the music is timeless, and fans are never disappointed.
---
Country Concert
Start date: July 6, 2023
End date: July 8, 2023
See Web Site for Schedule
July 6th, 7th, and 8th will once again deliver another amazing Country Concert experience.  Artists announced to date include Jon Pardi, Tim McGraw, Dierks Bentley, and Luke Bryan. Coolers and lawn chairs are always welcome. FREE re-entry. For more information regarding tickets, camping, RV rentals, and hotels, visit www.countryconcert.com or call 937.295.3000.
---